5 Commercial HVAC System Tips to Keep Your Office Cool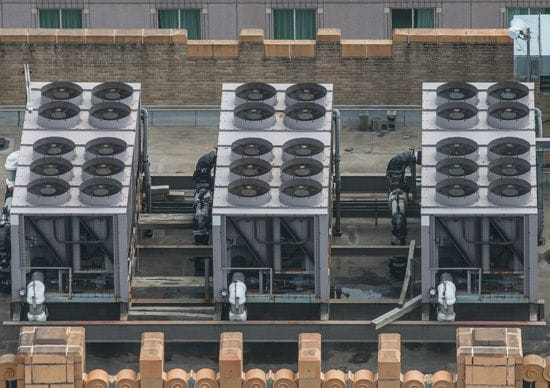 Summer's here, and with it comes the annual throng of sweaty, disgruntled desk jockeys creating an odour unique to your office floor.
Employees can't perform to their potential when they're hot and uncomfortable. Creating a working environment that's cozy and accommodating leads to productivity (employees can focus on their work) and safety (no potential slippage on sweat puddles).
Here are five ways you can redesign your current commercial HVAC system to balance out the summer's blistering temperatures:

Energy-Efficient Design
Retrofitting your current HVAC system with one that's designed specifically for the building has a larger upfront fee, but can save you valuable employee hours and the costs of future repairs and upgrades.
Choosing a smarter, more energy-efficient design means you won't have your commercial HVAC system going full throttle, preserving its longevity while getting the most bang for your buck energy-wise. You can also insulate the walls, windows, and floors of your office, but nothing will compare to an office run by a custom, retrofitted commercial HVAC system.

Improved Ventilation
Whether it's summer or winter, indoor air quality is an essential aspect of a comfortable office environment.
By redesigning your HVAC system for improved ventilation, you can limit the perspiration from your employees by reducing excessive humidity, along with unknown smells, dust clouds, germs, and even carbon dioxide. Eliminating all airborne pathogens minimizes the risk of employees getting sick, too.

Resizing Your HVAC Systems
One of the common problems we see in commercial buildings are HVAC systems that are either too large or too small for the space they're operating in. This leads to inefficiencies in energy usage, and inabilities to provide optimal HVAC settings.
Outside of uncomfortable temperatures, oversized commercial HVAC system will go on and off all day to accommodate for its overwhelming size and power creating a noisy distraction for your employees to go along with their undesirable office atmosphere.

Building Automation Systems
A building automation system (BAS) is today's answer to energy management and efficiency in commercial settings.
Room by room, you can adjust your office's settings to a specific temperature range, and even schedule lighting based on time of occupation (unnecessary lighting leads to increased temperatures). Building automation solutions optimize HVAC equipment efficiency, employee comfort, and savings on energy and operation costs.
BAS's monitor, trend, and log system performances, which can be retrieved and analyzed for system faults, helping you further refine the settings for your office. With complete heating and cooling control and the ability to automate settings based on occupancy and office usage there's no system that appeases employees and energy efficiency quite like a BAS.
Have your office employees started a mutiny to protest your office's stuffy conditions? Keep your employees cool and contact Ambient Mechanical to improve your commercial HVAC system for the summer.
Author:
Ambient Mechanical
About: Ambient Mechanical has been servicing the GTA since 1982 growing from a family-run business to a team of over 70 certified HVAC technicians, designers, customer service reps and sales members. Together we're committed to exceptional heating, ventilation, air-conditioning services, and energy efficient solutions.