Choosing the Right Commercial HVAC Chiller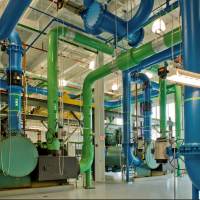 Assuming the rationale has already been established and there is a clear decision to move forward on replacing the legacy chilled water equipment with new, we suggest the following when you are considering a new commercial HVAC chiller for your building or process, and now the next step is choosing the right one.
There are a number of variables in play when choosing an HVAC chiller system: Learn, understand and rate the Owner's preferences and priorities to select the best equipment for the job.
Priorites to include:
Schedule timelines and budgets
Optimum Life Cycle of the new equipment
Energy consumption
Service reliability
Initial and long term costs
Potential for expandability
Maintenance costs
Evaluate Distribution Infractructure Viability for the HVAC System:
As we touched on, the size of your commercial facility will be a key aspect in your search for a new HVAC chiller.
If you're running a large-scale facility, like a factory or a shopping centre, we suggest centrifugal chillers as the highest-value option. These come as either air- or water-cooled chillers depending on the installation environment.
Compare record keeping drawings wit as-built conditions
Confirm condition of connected load components including pipe,pumps,coils,fans, valves, actuators, sensors,etc.
Water condition and anti-corrosion treatment programs
Available electrical power capacity
Verify and Re-calculate all connected loads
Resist replacing "like for like" capacities
Consider re-sized new equipment potential that better matched true load conditions
Evaluate building envelope type and condition as it will impact your energy load
Confirm sensible and latent loads then match with with occupants and equipment
Consider and implement additional energy saving strategies
Utility Incentives:
Identify and qualify applicable utility incentives funding
Proposal Stage:
Present teh best equipment technology available matched with the above assessment
Review different financing options
Project Execution:
Project manage , commissioning and update recorded drawings
Secure available utility incentives on behalf of the Owner
Types of Commercial HVAC Chillers
Centrifugal chillers, screw chillers, scroll chillers...but what does it all mean?? Here are the key differences between types of commercial HVAC chillers
Water-Cooled Centrifugal Chillers
Characterized by higher levels of efficiency, and can therefore handle larger operation loads
Operates through a consistent, clean source of treated water, as the water evaporation process dissipates heat from the building to the outdoors
More expensive; greater upfront investment initially
New Magnetic Technology uses Oil-free operation, preventing wear and eliminating friction on moving parts, prolonging equipment life and reducing HVAC maintenance needs
Absorption Chillers
Uses waste heat to operate
Ideal for facilities with access to a source of waste heat; absorption chillers can offset peak energy costs
Commonly implemented with a mechanical chiller system, which helps improve overall HVAC efficiency
Screw Chillers
Can be either air- or water-cooled
Water-cooled screw chillers can be outfitted with geothermal heat pump applications or ice storage for even better efficiency
Air-cooled screw chillers must be kept outdoors, and requires space on the roof
Water-cooled can be more efficient, unless your building lacks a steady source of clean water or limited indoor space for equipment, pumps etc; then you should look into air-cooled alternatives
Scroll Chillers
A more compact, modular design
This design allows for scalability and flexibility, ideal for smaller facilities
Can be water-cooled if there's an suitable energy source nearby
Air-chilled variants can be equipped for ice storage, managing costs of peak energy and improving the system's overall efficiency
---
If you're shopping for a new commercial HVAC contractor with extensive experience in the installation, service and preventative maintenance of your chiller for the spring, we can help you choose the right HVAC equipment and have it professionally installed by our certified HVAC technicians. Get in touch for a consultation or quote.
Author:
Ambient Mechanical
About: Ambient Mechanical has been servicing the GTA since 1982 growing from a family-run business to a team of over 70 certified HVAC technicians, designers, customer service reps and sales members. Together we're committed to exceptional heating, ventilation, air-conditioning services, and energy efficient solutions.